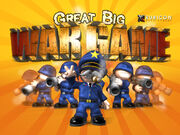 Great Big War Game is a casual modern military turn-based strategy game by Rubicon Development, and the sequel to Great Little War Game. It is available on iOS, Android, Blackberry, Windows 8 and RT, and older windows.
In GBWG, players take turns moving his or her Units around the grid-based battlefield, adapting their strategies on the fly as they attack enemies, Scouting the surrounding Terrain to uncover the Fog of War, and Capture Buildings with the ability to create Land, Sea, and Air Units.
Game Modes
Edit
Single-Player
Edit
Great Big War Game includes a Campaign mode with 50 missions and 48 hours of gameplay, plus a Skirmish mode to play against the AI on any of the 70 mutiplayer Maps available.
Multiplayer
Edit
Great Big War Game also has a Pass and Play mode where you can play with locally take your turn, press a button, then give the device to another player, and repeat. It also includes an online mode where you can take your turn, upload it, wait for the opponent to do his or her turn, and you pick up at any time and see how he took his turn, then repeat in till either player's HQ is destroyed.
The most recent version of Great Big War Game is version 1.4.1, fixing the broken flags in previous update.
Community
Edit
The GBWG Forums are located at http://www.rubicondev.com/forum/viewforum.php?f=24.
Tournament
Edit
A GBWG Community Tournament has been hosted, with Avandar winning the first one.
Reception
Edit
Much like its predecessor, GBWG has received mostly positive reviews. IGN gave it a score of 9.5 out of 10.0 and an Editors' Choice award, saying "Just buy it, plain and simple." GBWG was criticized for stability issues, as the game can crash on older devices.
GBWG is also in the top ten Android game list for July 2012. [1]
It won a Best of 2012 Award from IGN. It is also "Bafta Nomintated for Best Strategy Game 2013" [2]. It is the 'Winner of Best mobile game of 2012' from gamedynamo.com. [3]
The Windows RT Port made a paltry £52 in its first week despite costing about £10,000, possibly due to a bug in the Microsoft Store. [4]
Age Ratings
Edit
This game is rated T for Teen by the ESRB. [5]
App Store
Edit
This game is rated 12+ by Apple.
Visit Great Big War Game Gallery for more pictures.
More videos at GBWG Videos.
Related Pages
Edit
GBWG Navgation [Edit]
GBWG Mission Navgation [(Edit the template)]
Flip Flop Camp, Tactical Carnage, Offensive Defence, Insurgence, Fort Invincible, Tactical Retreat, Beach Party, Hot Oil, Alamo, Hide And Kill, G-Day, Hasty Defence, Learn To Fly, Island Defence, Booty Bay, Full Medal Anorak, Hurt Cabinet, Shank Alley | Next Mission, Mission 20, Mission 21, Siege,Mission 23, Mission 24, Monkey Island 26 27 28 29 30 31 32 33 34 35 36 37 38 39 40 41 42 43 44 45 46 47 48 49 50
| Map Navgation | [Edit the template] |
| --- | --- |
| GBWG Maps: | Beggar's Jungle, Beach Fight, Betrayal 2, Bravery, Chopper 2, Close Quarters, Dodgeball, MP Airwar #1 MP Airwar #2, Hospitality 2, Iceberg, King of the Hill 2, Red Waves, Ridge Rider, Rocky Roads, Scrap, Sewer, Trenches, Watery Neighbors 2 |
| Map Pack One Maps: | Battlefield, Blood Lake, Copper Soldiers, Dog House 2, MP Seawar #1, Freezer, Fun Canyon, Heat, Howdown, Ich Will Sonne, Mega Mesa, Mercy Neighbours On The Beach Red Canyon Snap! Sunny Vale Swamp Thing The Cove The Wall Vendetta Winter Wonderland 2 Wish You Were Dead 2 |
| Map Pack Two Maps: | Anvil, Bloody Valentine, Devil Island 2 MP Seawar #2 Flight Controll Frosty Gold Digging War Golden Fields Hex Hot Coffee Madness 2 Merry Go Round 2 Oasis Pirate Bay Roll With It Snowflake 2 Temple of Spoons The Thing Tic Tac Boom Typically Tropical Vulnerablility Wheel Of Fortune 2 Yellow Snow |
| War Chest Maps: | Badger Hole Blood Bowl Cat and Mouse Critter Friendly Fire 2 Hard Love Hot Tub Iron Man 2 Mein Land Pillow Fight Spearhead Tea Time The Strip Trone of Skulls Train to Hell 2 |
| Out of Date Maps: | Betrayal, Old Chopper, Devil Island, Dog House, Friendly Fire, Hospitality, Iron Man, King of the Hill, Madness, Merry Go Round, Snowflake, Train to Hell, Watery Neighbors, Wish You Were Dead, Wheel Of Fortune, Winter Wonderland |
Unit Navigation
Infantry units:
Bazooka, Commando, Engineer*, General*, Grenadier, Grunt, Medic** (Map Pack Two), Scout**, Sniper, Technician* **
Vehicle units:
Anti-Air Tank, Artillery, Battle Tank, Behemoth, Flame Tank** (Map Pack One), Jeep*, MLRS, Recon Tank, Supply Truck, Tank Killer**
Sea units:
Aegis, Cruiser, Destroyer, Ferry*, Fleet Oiler**, Scout Boat* **
Air units:
Bomber, Chopper**, Fighter, Sky Hook
Technician units* **:
Air Turret, Land Mine, Pounder, Sentry Gun
*Units that have no upgrade series   **GBWG only
| Creator | GBWG Tutorials [Edit] |
| --- | --- |
| Community [edit] | How to move further, |
| GBWG Help | The Essentials, Units, Buildings, Combat, Terrain, Battle Points, Online Account, Online Play, Pro Tips, IAPs |
Rate this article
Edit

Ad blocker interference detected!
Wikia is a free-to-use site that makes money from advertising. We have a modified experience for viewers using ad blockers

Wikia is not accessible if you've made further modifications. Remove the custom ad blocker rule(s) and the page will load as expected.