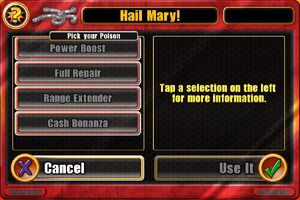 Hail Mary is a feature in GBWG Multiplayer where collecting seven or more stars will allow you to use one of four Hail Mary Boosts (these Boosts are Power Boost, Full Repair, Range Extender, and Cash Bonanza), two of which will work for the reminder of the current turn, while the other two will work immediately.
Ad blocker interference detected!
Wikia is a free-to-use site that makes money from advertising. We have a modified experience for viewers using ad blockers

Wikia is not accessible if you've made further modifications. Remove the custom ad blocker rule(s) and the page will load as expected.