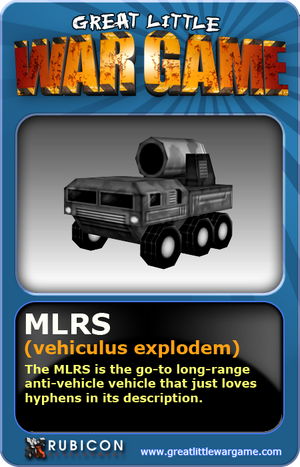 MLRS Units can damage Vehicle Units from far away.
They have 3 Ammo, and can shoot units from 3-5 spaces away in GBWG (2-4 in GLWG).
You can kill multiple Units in one turn, allowing you to get Hail Mary Boosts and promotions much quicker.
Upgrade Series
Edit
Unit Navigation
Infantry units:
Bazooka, Commando, Engineer*, General*, Grenadier, Grunt, Medic** (Map Pack Two), Scout**, Sniper, Technician* **
Vehicle units:
Anti-Air Tank, Artillery, Battle Tank, Behemoth, Flame Tank** (Map Pack One), Jeep*, MLRS, Recon Tank, Supply Truck, Tank Killer**
Sea units:
Aegis, Cruiser, Destroyer, Ferry*, Fleet Oiler**, Scout Boat* **
Air units:
Bomber, Chopper**, Fighter, Sky Hook
Technician units* **:
Air Turret, Land Mine, Pounder, Sentry Gun
*Units that have no upgrade series   **GBWG only
Ad blocker interference detected!
Wikia is a free-to-use site that makes money from advertising. We have a modified experience for viewers using ad blockers

Wikia is not accessible if you've made further modifications. Remove the custom ad blocker rule(s) and the page will load as expected.